A season pass is THE BEST way to kick back and cool off, with unlimited admission all season long!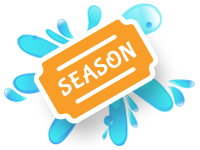 A transaction fee is charged per pass for credit card purchases
Pass holders will need to bring the online receipt and/or online season pass voucher with barcode(s) to Rigby's Entertainment Complex in order to pick up their season pass cards
Photo ID will be needed for each card holder.  Photos must be taken at Rigby's before Waterpark opens.
Children 2 years old and younger are FREE
Children under 12 years of age must be accompanied by a responsible guardian 16 years of age or older
Passes are valid for the 2020 season during normal operating hours.
There will be a $5 charge for lost or stolen card replacement.
Passes are non-refundable and are non-transferable.  They must be used by the same person all season.
2020 Season Pass Pricing
Payment Plans Available!
Payment plans are available for online purchase only. The number of payments and payment pricing varies based on current sale price and amount of time before the season opening weekend. Payments will be automatically drafted from your bank account each month from the date of purchase. Season pass member cards will not be released until all payments have been successfully made!
Black Friday Sale: $69.99 + tax & fee
(Sale Dates: Friday, November 29, 2019 – Monday, December 2, 2019)
Black Friday Payment Plan Price: 4 Payments of $17.50 each
Sale Price: $79.99 + tax & fee
(Sale Dates: Tuesday, December 3, 2019 – Sunday, March 1, 2020)
Sale Payment Plan Price: 4 Payments of $20 each (starting Dec 3 until Feb 15)
Sale Payment Plan Price: 3 Payments of $26.66 each (starting Feb 16 until Mar 1)
Regular Price: $89.99 + tax & fee
(Full price of $89.99 starting Monday, March 2, 2020 until season begins)
Regular Payment Plan Price: 3 Payments of $30 each (starting Mar 2 until Mar 15)
Regular Payment Plan Price: 2 Payments of $45 each (starting Mar 16 until April 15)
Season passes are to be purchased per person