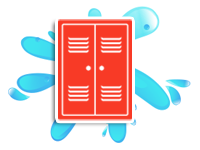 We recommend renting a locker to store your personal items. Daily locker rentals are available on a first- come first-serve basis.
Small – 14"H x 12"W X 17"D – $8
Large – 17"H x 14"W x 17"D – $10
Jumbo – 23"H x 17"W x 26"D  (recommended for families) –$12
Payment types we accept for lockers are Credit/Debit Card and Cash (Exact change preferable, the machine only makes up for a certain amount of change). Rigby's Card is not accepted.